Charge your batteries with the Renogy 800-Watt 12V Solar System. With eight sleek and durable 100W solar panels and 98% conversion efficiency, you won't need to worry about blackouts!
This complete solar kit is reliable for a wide range of off-grid uses because of its intelligent ground controller. It can handle diverse DC voltage systems from 12V to 48V, meaning it can power home utilities or commercial machinery.
RENOGY 800-WATT 12V SOLAR SYSTEM
Includes:
Eight 100W monocrystalline solar panels
20ft 10AWG AK
Rover Li 60A MPPT charge controller
BT-1 Bluetooth module
2ft 4AWG fuse cable
Solar Branch Connectors MMF+FFM pair
15A solar connector and 60A ANL fuse
8ft 4AWG tray table
Eight mounting Z brackets
Pros:
Protected from overcharging, short-circuiting, over-discharging, and reverse polarity
12V-48V handling delivers compatibility with a wide range of appliances
High-quality crafting guarantees durability
98% efficiency in solar-energy conversion
Remote monitoring
Low maintenance costs
The solar panels and charging controller can be 10ft apart
Easy, secure installation
Cons:
Harness solar power via a weatherproof Renogy Adaptor kit that connects the solar panels to a charge controller. The adaptor kit can conduct 100W to 400W to suit varying sunlight conditions.
The 60A charge controller regulates energy conversion and protects your batteries from overcharging. It also increases efficiency to make the most of limited solar energy.
You can control the charging from up to 82 feet away with the Renogy BT-1 Bluetooth module. It pairs with the DC Home App on your smartphone for remote tracking and control.
This system is easy to install and dismount, making it ideal for mobile operations and temporary set-ups.
Let's Take a Closer Look at Renogy 800-Watt 12V solar system Components
High-Quality, Durable Build
Renogy has an exceptional reputation for solar and wind energy products.
Renogy builds these panels for longevity. The extra-thick tempered glass is anti-reflective and transparent. This construction ensures that all the available solar energy gets captured AND it withstands harsh weather.
You can easily install and dismount this complete kit as many times as you want, so it's great if you want to use it in more than one location or for temporary set-ups. The panels feature corrosion-resistant aluminum frames, making them the perfect choice for use on mobile surfaces such as RVs, boats and caravans.
Rover Li 60A MPPT Charge Controller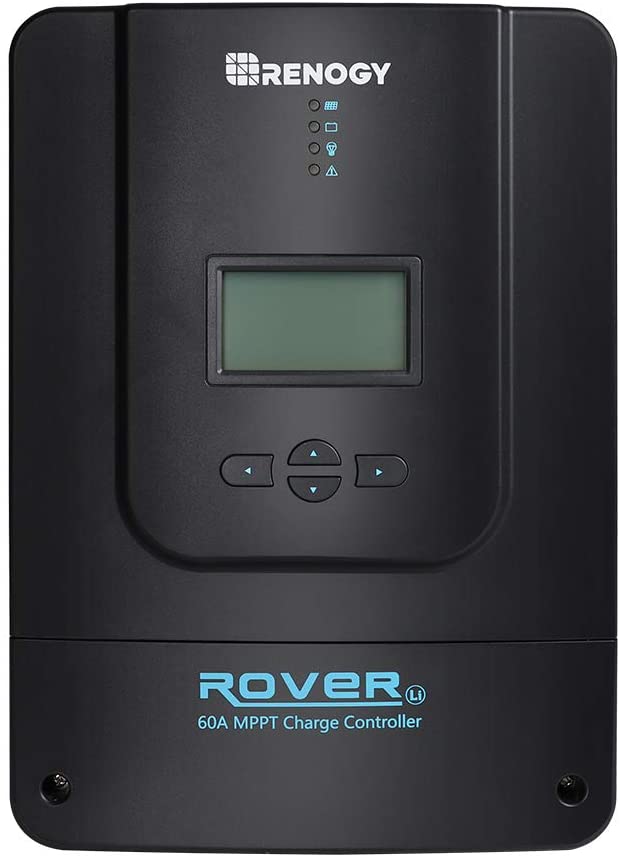 You can easily install this charge controller and monitor the electric output. The controller comes with four mounting brackets for simple installation. It also features a remote temperature sensor to track safety.
This charge controller protects the system from overcharging and reduces inefficiency. It detects a wide range of voltage systems, stabilizing operations for appliances rated between 12V and 48V. It can self-diagnose when errors occur, and it can also handle both GEL and Lithium batteries.
This Solar Panel Kit Is Suitable if you:
1. Own an RV or a boat and need a durable solar kit.
2. Want to cut down your utility bills.
3. Frequently go off-grid camping.
4. Want to increase the value of your real estate property.
5. Would like to reduce your eco-footprint.
Final Thoughts
This Renogy 800-Watt 12V Solar System makes a brilliant power-backup for mobile use and temporary setups. It gives you all the control and maximizes limited sunlight.
Bypass diodes on monocrystalline panels help tap solar power, giving 98% conversion efficiency. Even in winter, three hours of weak sunlight can make a difference! High-quality crafting and exceptional Renogy engineering ensure these panels won't let you down in the long-term, wherever you install it. Overall, this Solar Panel Kit makes an excellent investment.
For more options, read our roundup of other 1kw Solar Panel Kits.